Do you know how to style joggers in different ways? That is exactly what we want to help you with!
Joggers have been around for a while and honestly, it is one of the most stylish and comfortable pieces of clothing to have been in existence.
Not only do we tell you how to style women's joggers and men's joggers, but also give you color combinations for the next time you want to go out!
HOW TO STYLE JOGGERS
There are several different ways to dress joggers. However, everyone can do with some guidance.
First, let's all agree that joggers are the one thing that we can wear to work, casual days, to the gym, and much more!
Let's dive into how to style our joggers in the most fashionable ways possible!
Find out 30 Best Workout Leggings for every kind of woman!
Keeping It Simple
One of the best ways to dress joggers is by pairing it with a simple t-shirt. For example, pair a grey jogger with a simple white t-shirt and you're ready to run down to the nearby Starbucks!
On the other hand, both women's joggers and men's joggers come in several colours. Therefore, if you feel funky, pair up your jogger with a graphic t-shirt.
The best way to keep it simple is by going with colour combinations that are proven hits. Such as black and white, or olive green and white, or red and black!
A Complete Set
A very popular way to style joggers is to pair it up with the same colour top.
Therefore, if you recently purchased women's joggers that are either white, or black or any other solid colour, then you can pair it up with a top of similar colour!
The reason why this form of styling is popular is that you can use a crop top, lacy top, normal plain t-shirt, or anything you want to make this work.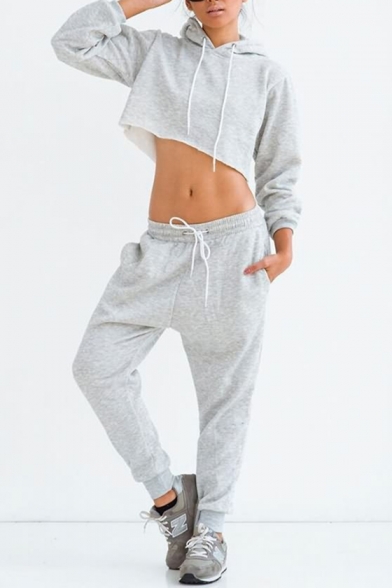 Switch It Up To Heels
You do not always have to focus on your top when you are trying to style your joggers.
A great way to style women's joggers is by switching the sneakers for a pair of heels. This instantly turns your outfit from sporty to chic!
This is a great way to dress joggers if you are looking for an outfit choice for a Sunday brunch after a wild Saturday night.
Get Yourself A Pair Of Cropped Joggers
One particular type of women's joggers that are on the rise are cropped joggers. Therefore, if you want to keep up with trends, get yourself a pair of the same!
Even though this look is not often seen on the streets, it's a great way to make sure you step beyond the realms of styling full-length joggers.
Moreover, a pair of cropped joggers is the best one to make sure you can show off your shoes!
Throw A Cardigan Over Your Top
Now, we all know that the classic way to style joggers is by pairing it up with a simple yet chic t-shit.
However, what if you add a cardigan on top of your t-shirt? It looks amazing! Do keep in mind that in such cases the colours need to be effective.
Therefore, if you have a cardigan of a lighter colour, make sure the joggers and t-shirt are from the darker side of the colour spectrum.
Both Women's joggers and men's joggers can be styled using this method. All you need to do is grab a cardigan!
A Denim Jacket Goes A Long Way
Most of us have a denim jacket in our wardrobes. However, it doesn't really come out be used for styling as often as it should.
An effective to way to style women's joggers is by pairing it with a denim jacket. A great combination is a pair of camo joggers and a denim jacket.
Obviously, other colours go really great with denim jackets as well. If you have a pair of maroon or dark blue joggers, pair it up with the denim jacket!
Let's Not Forget The Baggy Sweaters
A perfectly good way to style any given women's joggers is by pairing it with a baggy sweater.
In fact, you can use this style for both women's joggers and men's joggers. The best feature of this styling is you can use any two colours!
Grey sweater with grey joggers looks just as good as pairing a grey sweater with an olive green jogger. Just make sure the sweater is baggy and you have a full set of comfortable clothes!
Make A Contrasting Combination
Here's another great chic way of styling your joggers when you are going out for brunch or a reunion with your girlfriends.
So, what you do is pair up your joggers with a contrasting top and jacket.
Wearing contrasting colours has been trending for a while now. Therefore, there is no reason why you can take a pair of women's joggers and style it with this approach!
A point to note here, if you use both a top and jacket of the same colour, the outfit just keeps getting fresher and fresher.
Time To Use Your Baggy Shirts
There is a time and place for your baggy shirts. The time is now and the place is with your joggers.
If you don't have a pair of a baggy shirt, take one from your brother, father, or boyfriend. You have the right to!
Take a pair of women's joggers and pair it up with a baggy shirt. This has a more street look to it and is a great outfit for a day out at the park with your squad.
Dress Up
There is no hard and fast rule that dressy tops and blouses need to be worn with high-waist jeans or skirts.
You can just as easily dress joggers using a fancy blouse or dressy top and make your way for an afternoon lunch.
One of the best recommendations for the type of women's joggers for dressy tops is the ones made from linen or denim material.
If you want, you can strap on a pair of heels for the smart-casual outfit. On the other hand, if you wear a pair of sneakers, then you just incline toward the more sporty and athletic look.
You Might Find This Interesting: Fashion Nova Clothing Store
Leather Or Bomber Jackets
Jackets are a classic. Styling with jackets is a classic. In fact, anything to do with jackets is classic.
Therefore, there is no way you leave the jacket out when looking for how to style joggers.
You can use a pair of dark leather jackets with your light pair of joggers and vice versa. On the contrary, when its a bomber jacket, try to keep it aligned with the colour of the jogger.
Pick A Fitted Pair Of Joggers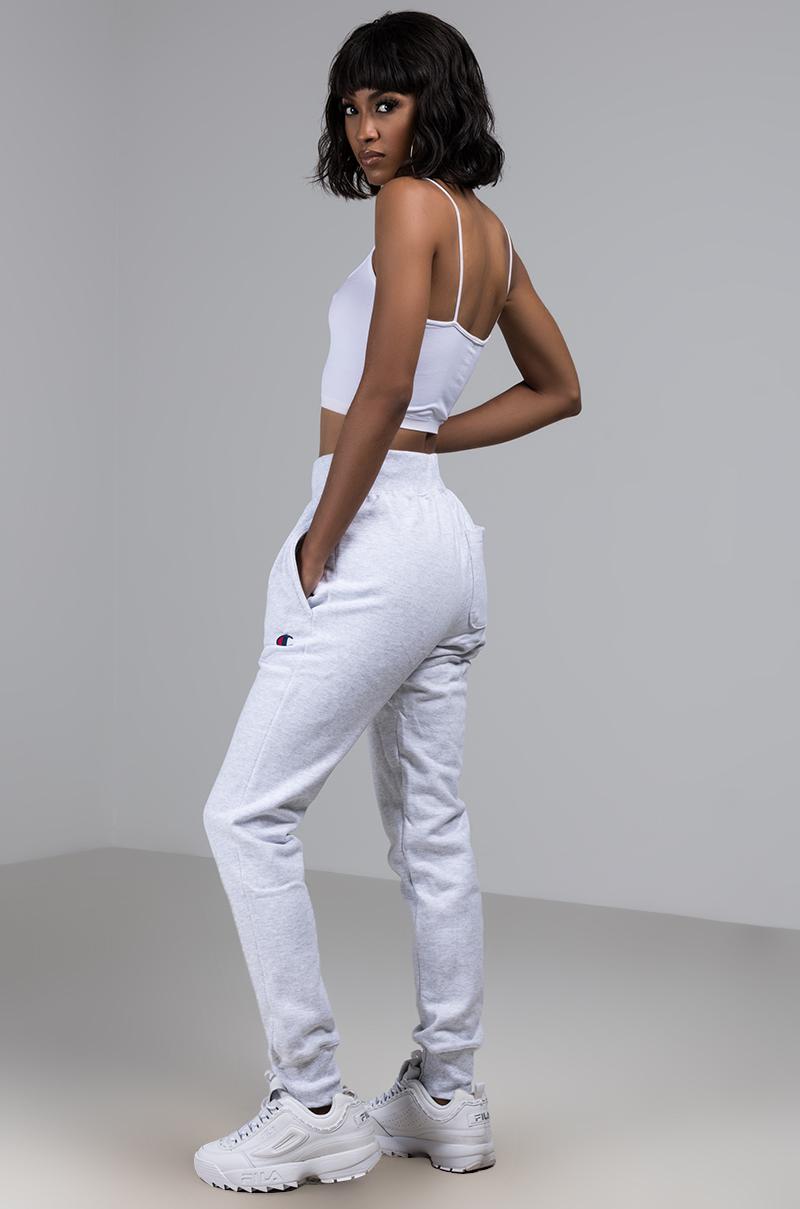 It is comfier to be in a pair of baggy joggers, but a pair of fitted women's joggers are easier to style.
In fact, if you pair fitted joggers with a trendy blazer or coat, you have a great outfit for work on Fridays.
Fitted joggers are much better for the times when you are really looking to dress up but not willing to compromise the comfort factor.
Select Your Accessories Carefully 
There is nothing that can complete an outfit better than the perfect selection of accessories. This applies to both men and women.
Whether it's a pair of women's joggers or men's joggers, adding a great accessory makes the outfit complete and picture-perfect.
You can choose to add one overall to your outfit to make it complete. For example, add a scarf or bag that compliments the outfit instead of carrying a smaller purse.
IF not a big bag or trendy scarf, you can go for pieces of jewellery. Therefore, you can select a dazzling watch that stands out or one-piece necklace that enhances your outfit.
Hence, if nothing else works when you want to get the perfect answer to how to style your joggers, always take a hard look at your jewelry box!